Note: Correction on Date August 16 not the 17 as previously posted. Sat Aug 16 end note
This Saturday the 16th of august join us in Ferguson, Mo as we gather to heal a community by planting the fall crops and tidying things up in an urban farm. We need lots of help and the community needs lots of healing so please join us . Located at :
801 S. Florissant Rd.
Ferguson, MO 63135
Page Sponsor
https://www.google.com/adsense/direct-campaign-agreement?w=ca-pub-7737777276609990&id=ACqy6HvDHqModOSSkp1ta0F6z4XHekpPdvXBnK5_sGI9dnUXVAb_4nKeqfMNELYvMzUkQfGIEp3B
Learn More about the #FarmedUpRising to benefit the community of Ferguson MO Aug16,2014-contact
Mark Garlic
or
Tarry There Gardens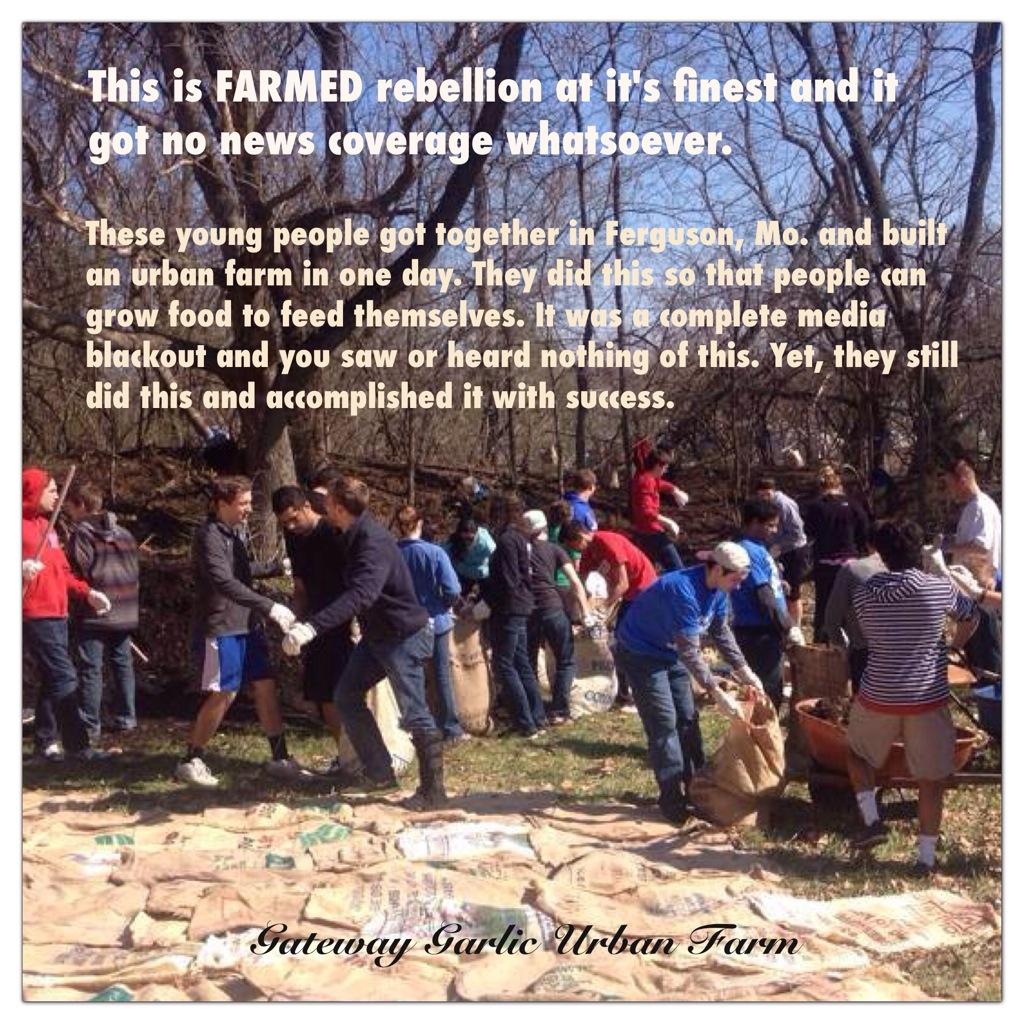 #FarmedUpRising to benefit the #Ferguson Community Aug 16, 2014
Join us for Natures Healing at #FarmUpRising Aug 16,2014

@RiverfrontTimes @stl7thward @STLPostDispatch @stltoday @STLMetro @StLHandyMan Farmed uprising in Ferguson,Mo pic.twitter.com/ZcmSKbBWwS
— Gateway Garlic (@STLGarlicfest) August 13, 2014
@StLHandyMan there is no danger and many children will be there including my 3 year old son.Tell them not to believe the media hype
— Gateway Garlic (@STLGarlicfest) August 13, 2014
Learn More about the #FarmedUpRising via the
Facebook Page
here: https://www.facebook.com/events/512970052180785/513028865508237/?comment_id=513036338840823&notif_t=like
Thank You for stopping by-Share and Comment below. If additional information in needed or you have a question let me know. Together we can make a difference. Build a Green StLouis
Get Your Green Building Tips and Resources at St Louis Renewable Energy Green Bl
og
Rain delay, see Facebook Link for current
https://www.google.com/adsense/direct-campaign-agreement?w=ca-pub-7737777276609990&id=ACqy6HvDHqModOSSkp1ta0F6z4XHekpPdvXBnK5_sGI9dnUXVAb_4nKeqfMNELYvMzUkQfGIEp3B