Learn More about the #FarmedUpRising to benefit the community of Ferguson MO Aug16,2014-contact
Mark Garlic
or
Tarry There Gardens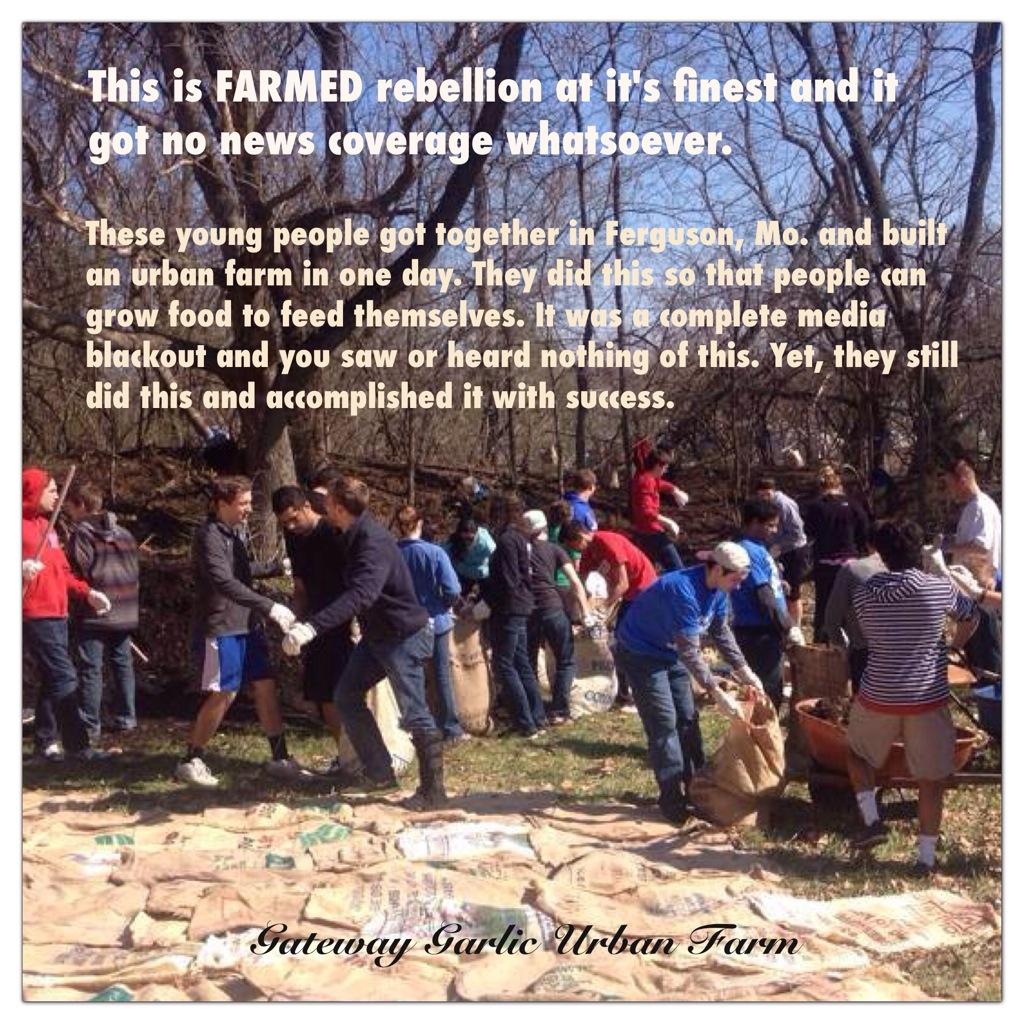 #FarmedUpRising to benefit the #Ferguson Community Aug 16, 2014
Join us for Natures Healing at #FarmUpRising Aug 16,2014

@RiverfrontTimes @stl7thward @STLPostDispatch @stltoday @STLMetro @StLHandyMan Farmed uprising in Ferguson,Mo pic.twitter.com/ZcmSKbBWwS
— Gateway Garlic (@STLGarlicfest) August 13, 2014
@StLHandyMan there is no danger and many children will be there including my 3 year old son.Tell them not to believe the media hype
— Gateway Garlic (@STLGarlicfest) August 13, 2014
Learn More about the #FarmedUpRising via the
Facebook Page
here: https://www.facebook.com/events/512970052180785/513028865508237/?comment_id=513036338840823&notif_t=like
Additional News about Mark Garlic founder of Carondelet Garlic
Gateway Garlic Urban Farm
Founder and Owner of the Gateway Garlic Urban Farm, Mark "Carondelet Garlic" Brown, who truly understands the importance of garlic!
St. Louis, Mo., is home to a recovered lost heirloom garlic that has been hiding out at an abandoned farm for over 70 years. The discovery was made by the founder and owner of the Gateway Garlic Urban Farm, Mark "Carondelet Garlic" Brown, who truly understands the importance of garlic.
Mark became intrigued after finding out that between 25 percent to 30 percent of heirlooms are recovered by individuals who have found them still growing at abandoned farmsteads. He immediately began his quest to find lost heirlooms in the river city region. In 2011, Mark found a series of farmsteads and went door to door asking if he could search for crop remnants on their land. He first located the original foundation and searched the perimeter. He searched many farmsteads and discovered nine separate garlic varieties. From those 9 varieties, he collected 50-100 samples of each and transplanted them into berms he built at the Gateway Garlic Urban Farm with the intention of saving the seed stock. He sent those nine separate varieties off to an organization in New Zealand to have them tested.
According to the tests, one of those varieties was said had its own genetic drift, which means that it meets the criteria to qualify as its own variety. This variety, merely scallion size, was found on an abandoned farmstead that had trees growing through the original farmhouse foundation. The garlic was growing around the foundation and even under the forest canopy. This land had not been farmed for over 70 years. This garlic variety recovered is a member of the Rocambole family with the origin being traced back to Eastern Central Europe. Mark says, "This makes since because it was found on a farm that was settled by German immigrants". The recovered heirloom is a hardneck type of garlic that is closely related to the German Red Garlic variety.
After Mark discovered the importance of this lost variety, he went back to the site where it was found and asked permission to collect the remaining plants. He dug up over 40,000 garlic plants and transplanted them into the Gateway Garlic Urban Farm. He grew this variety in raised berms of pulverized clay with a top dressing of compost.
The first year, he saved most of the seed stock and planted it in the fall. He sorted through thousands of cloves, only selecting the largest ones to be planted so that the final outcome would be a larger bulb of garlic. He donated 40 lbs of the smaller cloves of garlic to Mutual Aid, a local food pantry.
Mark spent over 2 years reconditioning these plants. Mark stated that,
"Garlic becomes highly adapted to its environment, reseeding itself as the bulbils drop to the ground, meaning this garlic has been replicating itself for over 70 years".
After 3 years of nurturing this resilient variety of garlic in historic Carondelet at the Gateway Garlic Urban Farm, he decided to name the garlic
Carondelet.
According to Mark,
the Carondelet variety of garlic is unique in that it is highly adaptable; it withstands the bitter cold winter temperatures in the Midwest and is also drought tolerant.
"the Carondelet variety of garlic endured this past winter like a champion compared to the Creole and Mediterranean varieties" The flavor is moderately tangy and spicy. It is fairly easy to peel, especially with the technique that requires shaking garlic between two metal bowls.
Mark comes from a long line of farmers in the Northern Illinois and Wisconsin regions. Some of his earliest childhood memories are of harvesting and eating raw sunflower seeds with his siblings and helping his parents harvest peas at the 2 lot urban farm he grew up on in Chicago.
His parents were victory gardeners. His paternal grandfather was a ploughman at the turn of the century. Growing food is a part of his heritage.
Mark Brown, a Saint Louis transplant has been farming in Missouri for 13 years and has been active in Urban Farming in St. Louis since 2005. In 2007, he founded the Gateway Garlic Urban Farm in the Carondelet Neighborhood, which now has 10 members and 15 allied growers.
Mark also spearheads The St. Louis Garlic Fest, which began as a private event with friends enjoying garlic dishes together over a decade ago. The St. Louis Garlic Fest is now in its 6
th
season and has drawn a crowd of over 3,500 individuals in recent years.
A Netwrok of Organic Growers
Mark Brown is a member of The Missouri Organic Association. Mark is passionate about building a network of allied farmers, sharing resources between organic growers, educating others including the youth about organic farming and sharing the harvest with local food banks.
He has helped start many urban farms in the St. Louis area including Tarry There Gardens, a small urban permaculture farm. Mark recently built a 12 x 40 ft poly tunnel using 100% recycled and reclaimed materials where he demonstrates bioponic, aquaponic and hydroponic growing methods. The poly-tunnel and the farm are used as an outdoor education center for the Oak Scouts.
Gateway Garlic Farm has open free plots for beginning urban farmers who wish to learn how to grow their own food or sell food at markets. The Gateway Garlic Urban Farm centers on community involvement, outreach and education. They work closely with local food banks such as Mutual Aid and Haven Street. They donate produce on a regular basis to these and other area food banks.
Mark owns and grows food on several lots throughout South St. Louis from Dutchtown to Carondelet. He sells produce to several restaurants in St. Louis and shares it with neighbors and friends.
In light of the recent
tragedies in Ferguson
, Mark and a group of friends, farmers, organic food activists, social activists and volunteers mobilized in Ferguson, Mo. bringing with them the harvest from their fields and donated non perishable food items.
According to Mark, "they created a mobile free food oasis to counter the food desert that was already existing there. They gave away free organic produce and taught healthy eating habits to Ferguson residents"
"It's small farmers who will help end hunger in our world while simultaneously teaching it to be more sustainable." – Mark Brown


Read more: http://www.motherearthnews.com/organic-gardening/steadfast-garlic-zbcz1409.aspx#ixzz3COHStf3C
and visit the
#StLouis #RobinHood of the Urban Garden Scene at his Facebook Profile
Thank You for stopping by-Share and Comment below. If additional information in needed or you have a question let me know. Together we can make a difference. Build a Green StLouis
Get Your Green Building Tips and Resources at St Louis Renewable Energy Green Bl
og
Rain delay, see Facebook Link for current
https://www.google.com/adsense/direct-campaign-agreement?w=ca-pub-7737777276609990&id=ACqy6HvDHqModOSSkp1ta0F6z4XHekpPdvXBnK5_sGI9dnUXVAb_4nKeqfMNELYvMzUkQfGIEp3B